Thanks for your interest in AViCAD! Download AViCAD free for 30 days.
We offer a free trial download for AViCAD. There is no obligation to buy or credit card required. We also provide free support during this time. If you need help installing, let us know as we offer remote assistance when needed.
Try our free download is available now
Get started now
We offer full 2D/3D CAD (called AViCAD) at no cost for 30 days. There is no obligation to buy and no credit card is required.
It installs in minutes, and it's easy to use. We provide online tutorials and demos so you can get started right away. Our customer support is available for any questions you may have.
Welcome to AViCAD: The affordable CAD software alternative to AutoCAD
AutoCAD is a powerful software that been around for some time. It has become a name brand since 1982 when Autodesk released version 1.0. Therefore it comes with higher licensing costs.
Our program offers the same features as AutoCAD without the expensive price tag. It has been updated over 10 times since 2010 and has undergone extensive testing.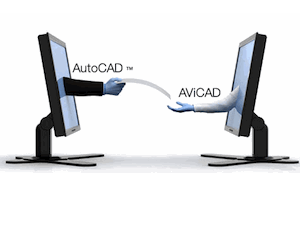 AviCAD is a cutting-edge CAD software that provides a comprehensive set of tools to create, edit, and manipulate 2D and 3D objects. With its wide range of features and drafting tools, it has become an excellent program for mechanical engineering, product design, and construction industries,
AviCAD's user interface is designed for both beginner and experienced users, offering a host of advanced features and customization options. Whether you're working with complex 3D models or need to generate 2D technical drawings, AviCAD's interface makes it easy to get the job done efficiently.
Same core software features you'll find in AutoCAD.
Same features but without the price tag.
Plus, you'll find even more tools not included in AutoCAD, such as 2D/3D engineering tools, extra drawing utilities, a 2D/3D architectural toolset, an advanced block library, and integrated interactive 3D PDF publishing.
We also offer many support options to help you get the most out of your CAD software. From our remote installation services to our online video training and customer support team, we can help ensure your CAD program runs smoothly and efficiently.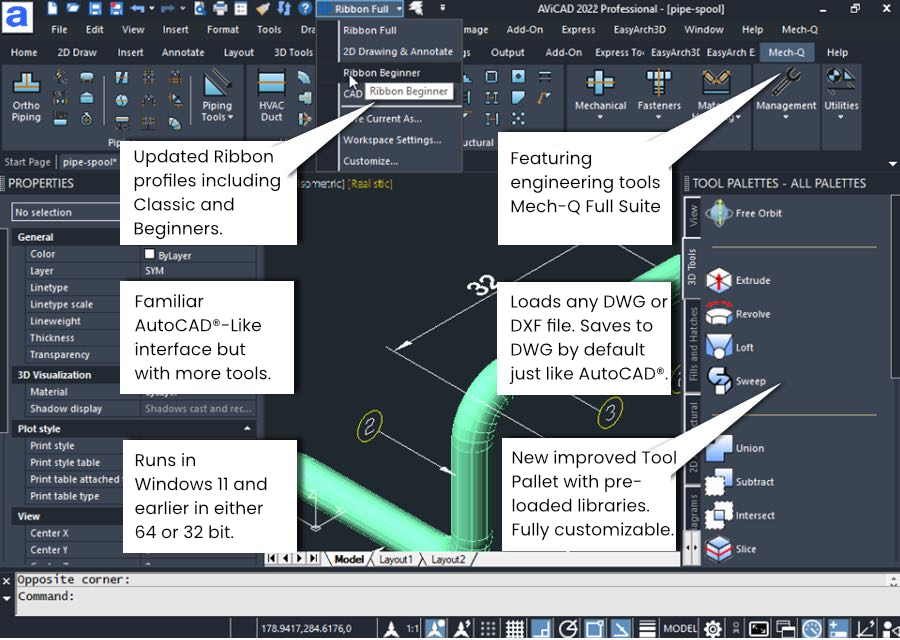 Compare AViCAD with AutoCAD.
Say goodbye to expensive CAD software subscriptions
Feel like you have too many subscriptions? We get this. That's why we also offer a perpetual license—meaning that once you buy it, it's yours. No subscriptions are attached.
For those who prefer to pay a low monthly or annual fee, we also offer affordable subscription options for as little as $1.25 a day.
Download AViCAD now and start your free trial today. See why so many people switch from expensive CAD software to our product. You'll be glad you did!
Download is available now.
Get started now
FAQ
What version will I receive?
We are currently in AViCAD 2024. It was released in early 2023. You will receive our standard version after signing up. The free version includes functionality such as 2D/3D drawings and our Mech-Q engineering tools.
We provide continual updates, and new versions are regularly released, ensuring that users have access to the latest tools and features.
Are there any product limitations to this free CAD download?
There are some limitations to the Avi CAD download. One of the main limitations to the Avi CAD trial is that it will place a watermark on your print/plot.
If you need more advanced features or tools then you will need to upgrade to the Plus version of AviCAD with either a subscription or perpetual license.
The Plus version contains the PDF to DWG, Solidworks import-export, 3D PDF, Easyarch Architectural tools and our massive block library.
Will my existing DWG files open in AViCAD?
AViCAD is a powerful CAD application designed to handle a wide range of file formats, including DWG files. This means that if you have existing DWG files created using Autodesk software, you can easily open and edit them in AViCAD without any compatibility issues.
Overall, if you have existing DWG files created using Autodesk software, you can rest assured that they will open seamlessly in AViCAD. With its affordable price point and powerful features, Our program is a great choice for anyone who needs to work with DWG files regularly.
What's happens after 30 days?
After trying our CAD, free download, you can purchase AViCAD or uninstall it. You can do so via the Control Panel in Windows – its a one-step uninstall.
So what are you waiting for? Try this affordable solution that provides the same core features as AutoCAD but without the high price tag.
Is this CAD software legal to use?
Yes by all means. AViCAD uses a CAD engine called IntelliCAD – in the late 90s, when Autodesk and a company called Softdesk split – a FCC ruling allowed Softdesk to develop what later became IntelliCAD.
The engine behind our product is developed and maintained by the IntelliCAD Technology Consortium (ITC), a group of software developers, OEMs, and end users.
Download is available now
Get started now
30 day FREE trial – No credit card required.
Check out our pricing
Buy / Subscribe Subscriptions and Lifetime licenses available.
Contact use today or call us at 888-271-7121 8-5 M-F Pacific time – we'd be happy to answer any question you may have.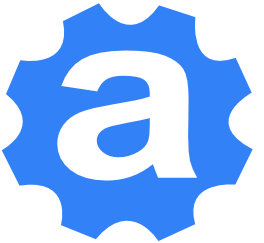 We take privacy seriously.
Live customer support is standing by, so call us at 888-271-7121 8-5 M-F Pacific time – we'd be happy to answer any question you may have.
AViCAD includes the Mech-Q engineering tools at no extra cost. All these tools are accessible from the toolbar.
Get it now.