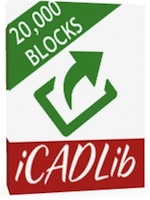 iCADLib Empowers You With 20,000 Blocks In Many Disciplines
Was $149.00 Now $99.00 
iCADLib is a Blocks Manager that integrates into the AViCAD toolbar. It includes both 2D and 3D blocks (drawings) in the following categories:
Construction
Architectural
ANSI-ISO
DIN-ISO Mechanics
ANSI and IEC Electrical
Electronic
Steel Profiles
Furniture
Kitchen
See Video & Read More About Our Block Library
The iCADLib module also allows you to add and categorize you existing block library. Its easy to use and allows for quick block retrieval and insertion.
iCADLib delivers electronically. A CD backup can also be purchased if needed and delivers 3-5 day Priority U.S. Mail.
Please contact us for more